My name is Ela Closs – Sharp. I am 17 years of age, currently studying for my AS Levels in Chemistry, Biology and Welsh.
Cricket has been a part of my life since I began playing at 9.
Everyone initially thought it was one of those after school clubs that we joined and that I would get bored with it – at the grand age of 17 – I'm still playing and my passion for the sport and my development as a player is as real now, as it ever was…my thirst for the sport and my development is my main driver!
I play cricket locally for Hawarden Cricket Club. I play for the Ladies and more recently I've been invited to join the 3rds and 4ths mixed teams as well as the midweek mixed teams although I am the only female regularly playing, for which I travel all over North Wales and Cheshire.
I was an active member of the Cricket North Wales Squad and represented North Wales in the U15 team. Being a part of this squad meant that I travelled the country representing the team – it was a great opportunity to meet and develop my skills not only as a cricket player but also as a team player.
Being a part of the North Wales squad gave me the opportunity to take part in trials for the Wales squad. Again, as most of the training and trials take place in Cardiff, we have spent a lot of time travelling to and from these fixtures. During the 2021 season, I got into the Wales U15 squad and Merlin kindly agreed to be my sponsor.
I played against Gloucestershire, Buckinghamshire, Somerset, Cornwall, Devon both home and away.
I decided to rest during my GCSE year and was more determined than ever to succeed when I finished and work towards team selection for the U18 in the Autumn of 2022. I received notification in October 2022 that I had been selected for the Winter Squad of 2022-2023 – I was ecstatic!
I joined the Pro Cricket Academy and played and won the Mersey cup.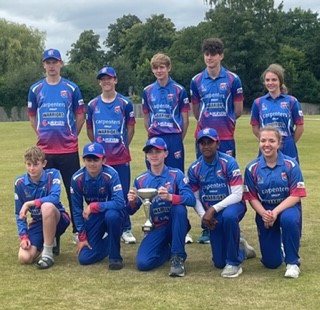 I became a regular for the Hawarden 3rd and 4th team and played in the U 18 midweek team.
With hard work and effort, I have been rewarded with a place on the tour of India with Wales U18.We will be going to Mumbai in April for 10 days, playing 4 matches, attending an IPL league match.
This is a trip of a lifetime for a spin bowler especially, touring the land of spin.
And once again my gratitude goes out to Merlin for helping me fulfil my dreams.
I will be writing a daily diary whilst over there so I can share my experience with the company, and I am ever so grateful to get this opportunity.
Diolch yn fawr iawn!
Thank you very much!