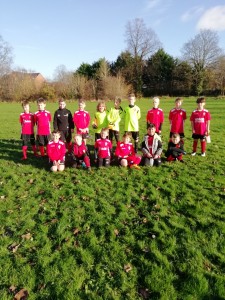 Merlin Circuit Technology Ltd are continuing to support the local community during these difficult times.
This year we proud to be sponsoring a local Wrexham based youth futsal club.
Paul Kelly, Wrexham youth futsal club leader said :
Please can I take this opportunity to thank Merlin for sponsoring our U9S Grassroots Rain jackets. Our club is a Futsal club, these children started with us when they were 6 , they attended our Saturday mornings sessions, many of the parents kept asking where could they find a football team they could play for, back then there were not many clubs around, so we decided to start our own Grassroots sector of our club.
They started in U7S Grassroots in the local Wrexham youth League, they are now starting in U9S friendly matches when Lockdown is lifted. The Rain jackets you are sponsoring will be Red as is our playing kit, If the weather is wet and cold on Sunday mornings they will play in the jackets so it's basically going to be their new kit, they also train outdoors so these jackets will get plenty of use.
Our Futsal club has sessions for boys and Girls from 4 years old right up to our new Adults team which we are putting together so they can compete in the Welsh Futsal league and Welsh futsal cup when Lockdowns are no more 🤞
Futsal is a ball sport played on a hard court, smaller than a football pitch, and mainly indoors. It has similarities to five-a-side football. Futsal is played between two teams of five players each, one of whom is the goalkeeper. Unlimited substitutions are permitted, Once again many thanks.