New PCB designs are being created to meet the demands of a market place where features are always reducing and the number of interconnects are always rising. In turn this has driven PCBs with more complex builds, buried layers and multiple bonding operations which generate more drill operations and rising hit counts. It is not uncommon to find production panels with 0.2mm dia drills and multiple images having 80,000 to 100,000 holes and drill times of 2 to 3 hours per run, given the size of the holes these sorts of products can only be drilled one high in a stack.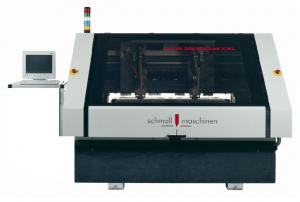 To meet this challenge Merlin Circuit Technology has invested in two new LM2 NC drills supplied by Schmoll Maschinen which were delivered and installed in September, within 24 hours of installation these machines were drilling live product contributing to production.
The LM2 drills are equipped with super fast linear drives in X,Y and Z reducing run times with precision and repeatability. These machines have a raft of clever features, broken drill bit detection, laser measurement for run out, tool length check and diameter verification and depth control for micro via drilling to an accuracy of +/-12um.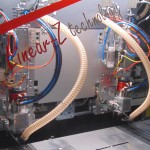 The LM2 drills have been fitted with SM220 high speed drilling spindles 200,000 RPM with high efficient synchronous drive, this offers the very high speeds required for micro via drilling down to 0.1mm dia and the torque required to drill up to 6.35mm dia at slow speeds. To facilitate the precision required for the spindles and to enable the fasts bed movement, the LM2s are mounted on solid granite bases with low coefficient of thermal expansion for high accuracy and long durability.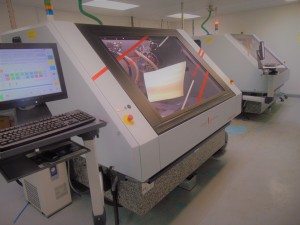 When buying new equipment careful consideration has to be given to the product range expected to be manufactured. At Merlin we specialise in small to medium batch volumes of high technology product, the LM2 drills are ideally suited as both are two head machines equipped with tool chain management. This reduces down time between runs and batches as the tools are already pre-loaded, simply upload the drill programme and hit run. Should more drills be required, these are highlighted by the software and can be loaded during the machine drill cycle while drilling.